KY Leopold Conservation Award Seeks Nominees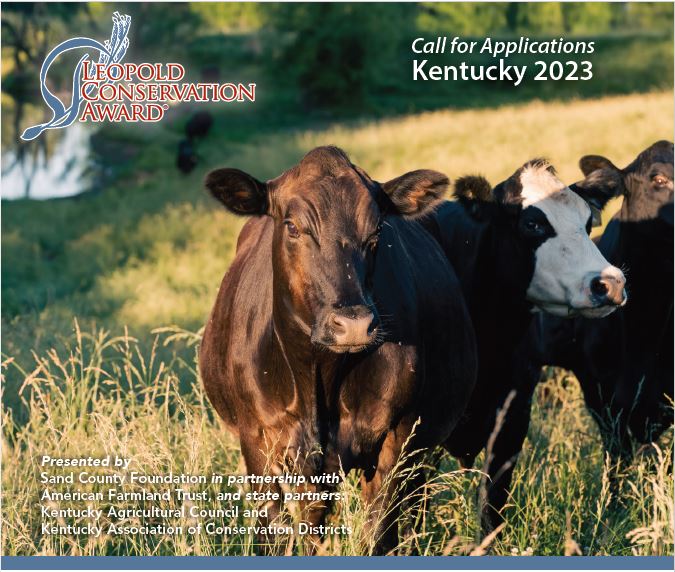 Know a Kentucky farmer or forester who goes above and beyond in the care and management of natural resources? Nominate them for the 2023 Kentucky Leopold Conservation Award®.
Sand County Foundation and national sponsor American Farmland Trust present the Leopold Conservation Award to private landowners in 25 states for extraordinary achievement in voluntary conservation. In Kentucky, the $10,000 award is presented annually with the Kentucky Agricultural Council and the Kentucky Association of Conservation Districts.
Given in honor of renowned conservationist Aldo Leopold, the award recognizes landowners who inspire others with their dedication to land, water, and wildlife habitat management on private, working land. In his influential 1949 book, "A Sand County Almanac," Leopold called for an ethical relationship between people and the land they own and manage.
Nominations may be submitted on behalf of a landowner, or landowners may apply themselves. The application can be found at www.sandcountyfoundation.org/ApplyLCA.
The application deadline date is April 1, 2023. The committee prefers application materials to be sent electronically. Applications can be emailed to colemansteve51@gmail.com or postmarked by April 1, and mailed to:
Leopold Conservation Award
c/o Kentucky Association of Conservation Districts
P.O. Box 4027
Frankfort, KY 40604-4027
The first was presented to Sherwood Acres Farm of LaGrange in 2013. Reddick Farms of Bardwell received the award in 2022.
"These award recipients are examples of how Aldo Leopold's land ethic is alive and well today. Their dedication to conservation shows how individuals can improve the health of the land while producing food and fiber," said Kevin McAleese, Sand County Foundation President and CEO.
"As the national sponsor for Sand County Foundation's Leopold Conservation Award, American Farmland Trust celebrates the hard work and dedication of farmers, ranchers, and forestland owners," said John Piotti, AFT President and CEO. "At AFT we believe that conservation in agriculture requires a focus on the land, the practices and the people and this award recognizes the integral role of all three."
The Kentucky Leopold Conservation Award is made possible thanks to the generous support and partnership of American Farmland Trust, Kentucky Agricultural Council, Kentucky Association of Conservation Districts, Sand County Foundation, U.S Department of Agriculture's Natural Resources Conservation Service, Kentucky Farm Bureau Federation, AgriBusiness Association of Kentucky, Farm Credit Mid-America, Kentucky Corn Growers Association, Kentucky Department of Agriculture, Kentucky Department of Fish and Wildlife Resources, Kentucky Pork Producers, Kentucky Soybean Promotion Board, Kentucky Tree Farm Committee, Kentucky Woodland Owner's Association, and University of Kentucky College of Agriculture, Food and Environment.
For more information on the award, visit www.leopoldconservationaward.org.
MEDIA CONTACTS:
Steve Coleman, colemansteve51@gmail.com, 502.330.5044
Casey Langan, clangan@sandcountyfoundation.org, 608.295.6001